VIG Spotlight: Jacque Opp
Groomers around the world inspire us. Their passion for pets and business consistently set the bar for the industry, which is why we'll be featuring stories from VIGs - very important groomers - like you. This month's spotlight features Jacque Opp, owner of Pet Agree Mobile Grooming in Bismarck, North Dakota.
GC: Tell us your grooming story.

JO: I was born and raised in North Dakota and have been an avid animal lover my entire life. I started my grooming career in 2006 by accident. I was looking for a full-time job, and a corporate salon had just opened in our town. It was a very exciting time!

After starting as a bather, I quickly moved to managing a busy salon with more than nine employees. I saw flaws and opportunities while working in that fast-paced environment, but I wanted to do better for the clients and their pets.

In 2012, I opened my own mobile grooming salon, serving nine towns. At that time, I was still grooming only dogs, and I received a lot of calls for cats but had to say no. It was hard for me to not be able to help these cat owners who had some serious problems at hand. While at corporate, I had been badly bitten by a cat. Not only did it hurt a lot, but it also took me out of work for 10 days.

After that, I literally swore working on cats off, but once I discovered I can safely groom cats by myself, I was all in.

I earned my Certified Feline Master Groomer title in 2017. At that point, I limited my grooming areas to two towns, and I became a cat grooming extraordinaire. I'm now a certifier for the National Cat Groomers Institute (NCGI), and in 2018, I joined the Wahl Animal USA Ambassador team. I take great pride in showing other groomers how to work smarter not harder with their tools and cat grooming goals.

GC: What interested you in grooming cats again?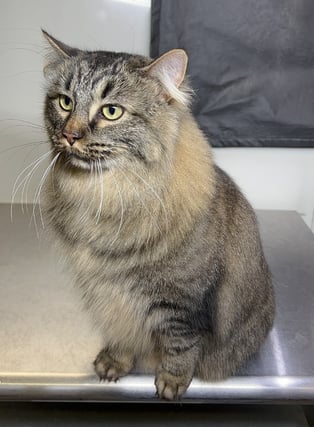 JO: I was seeing all these drop-dead gorgeous, clean cats online. I was also tired of neglecting all the phone calls I was getting, and I had to help if I could. Frequently, I asked myself, 'I wonder if I can do that solo? Can I really help them?'

I discovered the NCGI and dove headfirst into their program. Best decision and investment I made for my career.
GC: What are the biggest differences between dog and cat grooming?
JO: EVERYTHING. Grooming cats the same way as dogs is like saying apples and oranges are the same and should be eaten the same way. It's easier to say what same tools we use - nail trimmer, clipper (for some) and cat-safe shampoo.

Cat grooming requires a heightened awareness of how the cat is responding during each moment of the groom. For example, I won't shave the belly of an older cat. Why? For one, the skin is thinner due to being older, making it more dangerous to tear the skin. Then, there's also added joint discomfort because an older cat can't be stretched out in full motion the same way a two-year-old cat can.

I truly am the voice of the cat. If a cat is too nervous of the clipper, I do not clip. Dog grooming is more owner-driven. What the owner wants is what we truly try to accomplish. Night and day difference.
GC: Do you have a favorite breed to groom? If so, why are they your favorite?
JO: I really enjoy grooming Persians. They are one of the few breeds that require a face trim, which opens their expressions, and fine details to polish the finished groom.
GC: What are the benefits of mobile grooming?
JO: Mobile grooming is the best option for owners and their pets. It is the most convenient for the owner and takes the least amount of time. In most cases, I only need two minutes for a hand over. And if owners are working, I've had spouses, children, girlfriends, uncles and even moms meet to hand over the kitty. And then, I return the cat to the home and lock up behind me.

Mobile grooming also eliminates car rides. For most cats, the car ride can be traumatizing. My goal is to keep the entire process as stress free as possible. I want the cats to trust me, building on that trust with each appointment.
GC: What is your favorite thing about being a groomer?
JO: Helping solve cat owners' problems. Let's face it, no one likes to step on a hairball (barefoot) in the middle of the night on the way to the bathroom. EW! I enjoy being able to remove that disgusting experience and better their living conditions.

I really enjoy seeing the transformations. There is something about a clean cat that shines. Also, cats are given the best names ever! My recent favorite was GigglyBummbleFarts.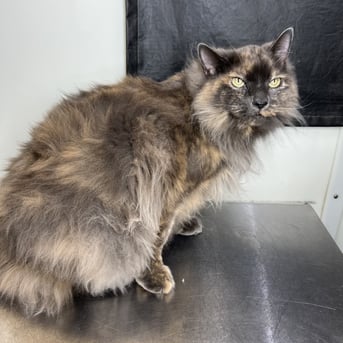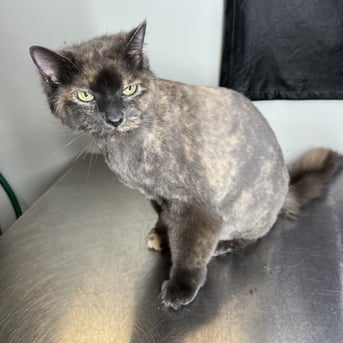 GC: What is the best piece of grooming advice you've received?
JO: Charge your worth. Our time is valuable. Your skillset is unique. It takes incredible skill to work with pets and owners together.
GC: What would you say to someone interested in becoming a groomer?
JO: DO IT! But be prepared for body aches, pee, poop, drool and 'Karens.' If you can handle that, you will find your gratitude.
GC: Why do you choose to shop with Groomer's Choice?
JO: I've been utilizing Groomer's Choice since I started grooming in 2006. They surpass any other company in terms of speed and efficiency of delivering their goods.
GC: Is there anything else you'd like to add?

JO: I truly enjoy helping other groomers find the AHA! moment with cat grooming. While it's not everyone's forte, those who face the challenge are greatly rewarded.
Keep up with Jacque and Pet Agree Mobile Grooming on TikTok and Instagram.
---
Are you a groomer or pet professional? Want to be featured in a future Groomer's Choice blog post or magazine? Submit your grooming story! 💜