VIG Spotlight: Kirsten Althouse
Groomers around the world inspire us. Their passion for pets and business consistently set the bar for the industry, which is why we'll be featuring stories from VIGs - very important groomers - like you. This month's spotlight features Kirsten Althouse, owner of HoundHouse Grooming, LLC, in Clifford, Pennsylvania.
GC: Tell us your grooming story.

KA: I started grooming in 2014 at 19 years old. I attended Rochester Institute of Dog Grooming and finished my certification in January 2015. After that, I opened a little salon in my parents' basement in 2016 and then worked in Cleveland, Ohio, for a short time before opening HoundHouse Grooming.

GC: What interested you about becoming a groomer?
KA: It actually fell into my lap! I was attending college to pursue a different career with dogs, and it wasn't working out. I originally wanted to work with search and rescue or a k9 unit but tried grooming on a whim, knowing I had an artsy side and loved dogs. My mom found the grooming school I ended up attending, and it all was just meant to be!
GC: Tell us about HoundHouse Grooming.
KA: I had a storefront but opened out of my home in 2021. I will celebrate six years of business this August! I groom one dog at a time via appointment only and offer quality one on one care and routine appointments. My clients have total trust in me for whatever their dog's needs are.
GC: What is it like to own your own grooming business?
KA: Owning my own business has been the best thing I have ever done. I love working for myself. My clients have become friends, and the dogs I love as if they were my own. It's a little piece of rest from my two young kids. They keep me so busy!

I simply enjoy my career. There's no better way than to be able to work for yourself.
GC: Do you have a favorite breed to groom?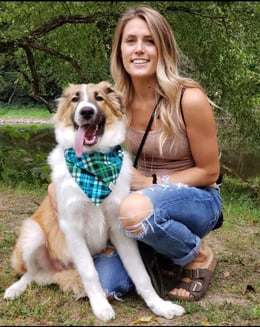 KA: I love grooming double coated breeds! That floof on their back that stands up and the furnishings are so satisfying. If I had to pick just one, I would probably say Great Pyrenees. Their hair is so satisfying to me.
GC: What is your favorite thing about being a groomer?
KA: I love a good before and after and seeing my dogs feeling so good when they are finished. Makes me smile! Also, I love seeing my clients' faces when they get back to pick up their pets and how happy it makes them.
GC: What is the best piece of grooming advice you've received?
KA: Never be afraid to say no. And do what works for you! If a client doesn't seem like they are a right fit for you and what you want to achieve in your salon, it is OK to tell them that. Your happiness at work keeps you going. Do your best and don't be afraid to express any concerns.
GC: What would you say to someone interested in becoming a groomer?
KA: Do as much training and get as much experience as you can! And take the time to LEARN! There are so many different things involved, and every dog is so different – physically and mentally. Start small and keep educating yourself because there is always something to learn. Knowledge is success!
GC: Why do you choose to shop with Groomer's Choice?
KA: Groomer's Choice is a great place to shop! They have everything I need – including amazing product lines; their shipping is fabulous, and the customer service is so helpful!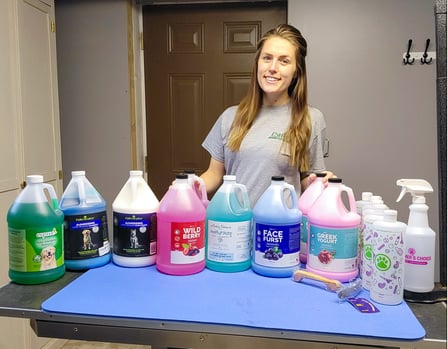 Keep up with Kirsten and HoundHouse Grooming on Facebook and Instagram.
---
Are you a dog groomer or pet professional? Want to be featured in a future Groomer's Choice blog post or magazine? Submit your grooming story! 💜