VIG Spotlight: Pearl Sharpe
Groomers around the world inspire us. Their passion for pets and business consistently set the bar for the industry, which is why we'll be featuring stories from VIGs - very important groomers - like you. This month's spotlight features Pearl Sharpe, owner of Pearly Pawz, in Murfreesboro, Tennessee.
GC: Tell us your grooming story.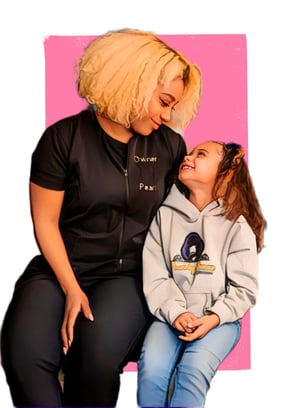 PS: I started grooming when I was 18 years old. I kind of fell into it. I was lost and confused about what I wanted. I loved animals and wanted my job to be something with them, but I didn't know what.

A wonderful lady by the name of Andrea took me under her wing and hired me. She helped me start my journey on a path I never knew I wanted. I started my career at PetSmart, working my way as I traveled from South Dakota to Las Vegas, then to Dallas and now as a business owner at 29 in Tennessee. I'm a single mother to a beautiful little girl named Kai'la, and I'm getting to show her that anything you set your mind to you can achieve.

Juggling mom life and being a pet groomer and business owner is so rewarding in so many ways, and I'm so glad that now I get to use my social media platform to not only influence groomers but also moms trying to make their dreams come true.

GC: What interested you about becoming a groomer?
PS: I suffer from post-traumatic stress disorder, depression, anxiety and bipolar disorder. Grooming is the only thing my brain can focus on and control. It's the one thing that feeds me happiness and calmness all in one.

I know what it feels like to be afraid. Because we can relate in that sense, I'm able to calm a dog, and we learn to trust each other on the grooming table. From creating a masterpiece to having happy pet parents calling me Auntie Pearl and welcoming me to their family, I love every moment of it. All of my clients feel like my own personal pets, and I take care of them like they're my own so it's like having 1,000 pets that don't live with me.
GC: Can you tell us more about Pearly Pawz?
PS: Pearly Pawz became an official business in June of 2021. I wanted to build a brand that stood out with a fun and learning atmosphere. I also wanted my staff to feel free to express themselves and to understand that we are about quality, relationships and teaching our clients instead of quantity and being a sweatshop.

We offer hair coloring, allow clients to watch us groom live on TikTok and provide hands-on leaning for how to brush and maintain coats. We make sure when you leave Pearly Pawz you feel like family and learned something!
GC: What are the sacrifices and rewards that come with owning a grooming business?
PS: For sacrifices, I would say time. Working for myself I find I'm always working; I'm always pushing for the business to grow and get better. I have to pull back and remind myself that I have a life to live outside of work and being a business owner.

Rewards would be watching other people learn from me and then seeing them go out into the world, open their own businesses and create their own legacies.
GC: Do you have a favorite breed to groom?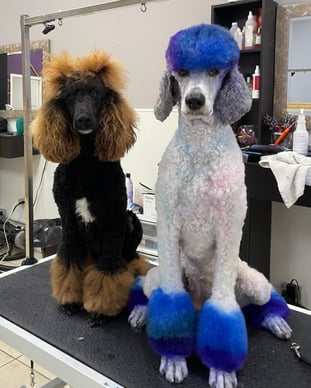 PS: Poodles hands down! Such a groomer thing to say, but the Poodle is so versatile and can be made into just about anything.
GC: What is your favorite thing about being a groomer?
PS: The relationships you make with not only pets but the owners. You build a big family you never knew you needed.
GC: What is the best piece of grooming advice you've received?
PS: To keep learning and growing. Your craft will never be perfect because it will always be evolving.
GC: What would you say to someone interested in becoming a groomer?
PS: Start at the bottom, learn and keep learning. And make sure you have a good team around you to help you keep growing and learning.
GC: Why do you choose to shop with Groomer's Choice?
PS: I love the one-on-oneness and that I have a personal rep I can call. He knows my orders and my shop and what we need. And he even calls sometimes to check and make sure we have all we need.
GC: Is there anything else you'd like to add?
PS: My goal is for the grooming world to be more understood and to have a bigger light shined on us. We aren't just people who butcher dogs' haircuts. We are animal lovers, trainers, teachers and passionate. We all do this career because we love it.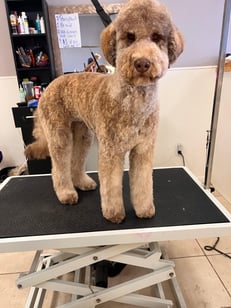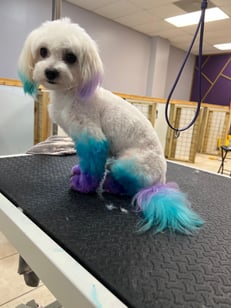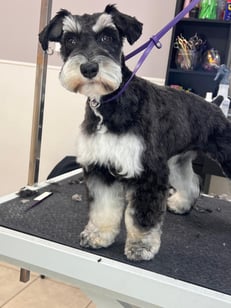 Keep up with Pearl and Pearly Pawz on Facebook, TikTok and Instagram.
---
Are you a dog groomer or pet professional? Want to be featured in a future Groomer's Choice blog post or magazine? Submit your grooming story! 💜