VIG Spotlight: Logan Rago
Groomers around the world inspire us. Their passion for pets and business consistently set the bar for the industry, which is why we'll be featuring stories from VIGs - very important groomers - like you. This month's spotlight features Logan Rago from Schaumburg, Illinois.
GC: Tell us your grooming story.

LR: My name is Logan Rago aka DogsByLogan on social media! Like a lot of animal lovers, I've known I wanted to work with animals since I was very young.

When I was 12, I started my own dog walking business. I even created my own posters for it and everything (made with markers and glitter pens). I wanted to get a job as soon as I could, so at 14 I started work at Yuppie Puppie in Roselle, Illinois. For two years, I was a bather – learning all the fun and plentiful information about dogs, their behaviors and how to scrub like there's no tomorrow so we have a clean, fresh, sparkly puppy ready for their haircut. I was also slowly and surely brought into learning how to use more equipment to be a dog groomer myself.

I wanted to document my journey and see my progress, so I started posting on social media, and my content blew up. I have been posting on TikTok and YouTube for a year and have more than 2.9 million followers combined. Every day I get to showcase my grooms and my growth, and I could not be more thankful for all the support I have received. I am beyond excited for the future of dog grooming and what it holds for many young groomers like myself.

GC: What interested you in becoming a dog groomer?
LR: I actually did not know if I wanted to be a dog groomer at first. I wanted to work in veterinary medicine until I took a course giving me a glimpse into that world, and after much consideration, I decided it was not for me. I love this occupation, and why leave something I have such a strong passion for?
GC: Do you have a favorite breed to groom? If so, why are they your favorite?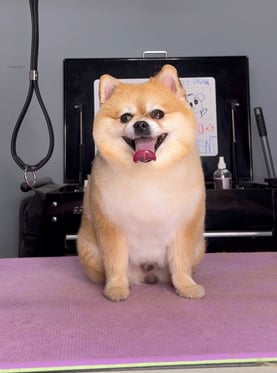 LR: My favorite breed to groom is totally Pomeranians. I feel like they can have the best transformations, and I like to learn and progress with my hand scissoring skills while making them the most round and circle toasted marshmallows they can possibly be. I used to actually be very nervous providing services for Poms because their haircuts can be so difficult, but now, every time I have the chance to groom one all I can see is a learning experience.
GC: What is your favorite thing about being a groomer?
LR: My favorite thing about being a groomer is transforming an overgrown, crunchy dog into a beautiful, brand-new baby. I adore when a cuteness overload makes the pet owners have an instant smile to their dogs during pickup.

Another thing I love about being a dog groomer is when this community supports each other regardless of the individual's uniqueness. There are so many truly amazing people in this industry that I'm able to relate to and grow with.
GC: What is the best piece of grooming advice you've received?
LR: The best piece of advice I have received is that dogs can read your energy! I 100% agree with this, and it's a hard truth. Being patient and calm working with a difficult dog is very challenging but needed. I always make sure the dogs I groom have the most positive session possible, and I care about that way more than making the dog look Instagram-worthy! I always have high hopes for my difficult dogs so that one appointment they can be the most stellar baby ever.
GC: What would you say to someone interested in becoming a groomer?
LR: It takes a certain type of person to be a dog groomer. Like many service jobs, it requires a skill to perform on a living, moving animal.

With that being said, my job is my favorite thing in my life. It does not feel like I am even working. I sincerely enjoy going to work every day, and I am so fortunate to find a passion and career so early in my life.
GC: Why do you choose to shop with Groomer's Choice?
LR: I would only ever use the best quality equipment and tools; you notice the difference immediately!
GC: Is there anything else you'd like to add?

LR: I hope to make a difference in the grooming community and wish everyone will continue to be supportive, accepting and loving to everyone that chooses this career path.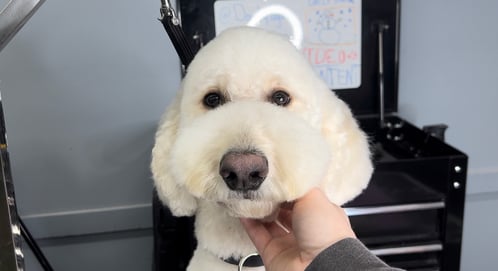 Keep up with Logan on YouTube, TikTok and Instagram.
---
Are you a groomer or pet professional? Want to be featured in a future Groomer's Choice blog post or magazine? Submit your grooming story! 💜