Groomer Spotlight on Jeanette Nolte
Confirmation That You Are on the Right Track
To quote the infamous Brazilian football player Pelé, "Success is no accident. It is hard work, perseverance, learning, studying, sacrifice and most of all, love of what you are doing or learning to do." Many can attest to this as being true, including Animal Behavior College's Grooming Instruction Program graduate Jeanette Nolte.

Nolte was interested in a career with animals ever since high school when she was working as a dog bather and other dog related jobs. Once out of college, Jeanette started working with even more animals and observed how much of a demand there was for pet grooming. This sparked her interest, and after years of animal related experience, she decided to further her education with ABC's Grooming Instruction Program with the goals of first becoming a certified pet groomer, and then starting her own business.

All ABC grooming students receive an extensive tool kit during their course of study. This kit comes from Groomer's Choice, a leader in the grooming field. Having the grooming tool kit allowed Jeanette to learn firsthand about the numerous tools required in grooming and, most importantly, how to properly utilize them. Learning how to use grooming equipment effectively and having hands-on practice helped boost her confidence as a groomer. Another takeaway for Nolte was the importance of safety and expanding her knowledge of dog breeds and their varying coats.

As Ms. Nolte discovered, learning about grooming in an organized and systematic fashion is one of the hallmarks of a quality certification program. The importance of grooming certification became even clearer once Jeanette started her own business. "I have had too many people come to me saying that they have taken their dogs to groomers who are not certified and have had a bad experience. They then become regular customers for my business because they don't want a non-certified person grooming their pet. I wouldn't be where I am at without having the certification because it backs up the legitimacy of what I do."

For those who are interested in becoming a groomer, Nolte suggests that you go through everything the job entails with an experienced groomer. "A lot of people think it's a 'rainbow' job, but grooming can be physically demanding work. It is very helpful to know and understand the animals and their behaviors, too." She continues saying, "Make sure you have a very patient and calm mentality. You have to learn how to navigate the obstacles of the job. It is a very rewarding job, but it is by no means an easy job."

Now that she has her certification, grooming training and tools from Groomer's Choice, Jeanette's career as a groomer has dramatically flourished. Nolte has been able to leave her corporate job to groom full-time, is currently receiving 5-6 texts a day asking for services and is booked out 2 weeks ahead, while completing 7-11 grooms a day. Through her new connections and current 250 clients, her word-of-mouth recommendations have exploded. She is currently working out of her home but is working with a realtor to find a larger location to run her business. Nolte plans to hire 1-2 other groomers in the next 6 months to meet the demand of clients.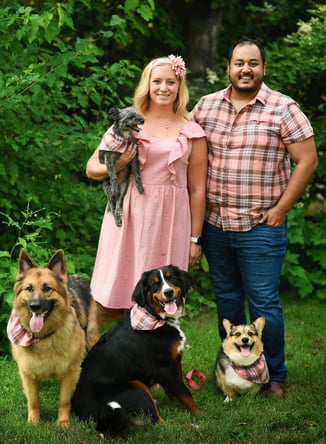 One of her proudest achievements is her 5-star ratings on Google reviews. "I live every day to see that number go up every single day. Watching the reviews helps me keep an eye on my competition, and I always make sure the client is happy even when a mistake is made, or they are not satisfied." Nolte will walk with the owner of the dog from snout to tail and ask if they are happy with the cut and if any changes are needed before they walk out the door. She has the clients tell her exactly what they want to give them more freedom in their preferred groom rather than just getting what the groomer gives them.

Nolte and her fiancé are looking forward to their future with the business. They plan to hire a full-time crew and would like to expand the services provided to include boarding, doggie daycare, pet massage and dog training. "I never thought I would be where I am today, doing what I wanted to do. My dream job was to work with dogs, but I was thinking it was more of a hobby and not a career. The sky is the limit in working with animals, especially in this day and age. You don't have to have a 9-5 job; you can make a successful career out of it (grooming) and do what you love."
ABC congratulates Jeanette Nolte on her recent achievements and hopes this inspires others to keep searching for the dream they love.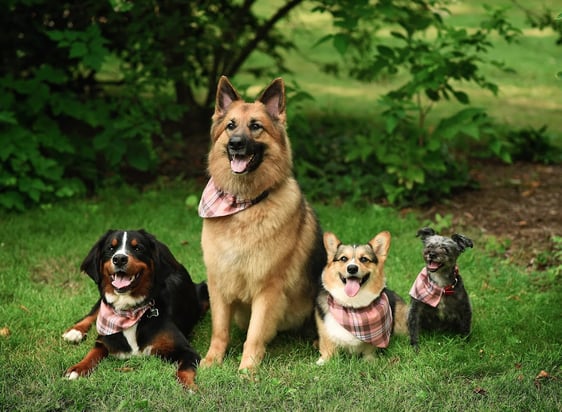 Jeanette's dogs, from left: Khora (Bernese Mountain Dog), Sadie (German Shepherd), Cooper (Corgi) and Penny (Yorki-Poodle).
---
Are you a dog groomer or pet professional? Want to be featured in a future Groomer's Choice blog post or catalog? Submit your grooming story! 💜