Groomer Spotlight on Alexis Drummonds
On the Road to Being a Successful Groomer
Steve Jobs once said, "Your work is going to fill a large part of your life, and the only way to be truly satisfied is to do what you believe is great work. And the only way to do great work is to love what you do. If you haven't found it yet, keep looking. Don't settle. As with all matters of the heart, you'll know when you find it." Where the journey leads you is the most important part in searching for your dream job and such was the case for Animal Behavior College's Grooming Instruction Program graduate Alexis Drummonds.

Drummonds' interest in grooming was sparked by accident when she was hired in 2016 to be a receptionist at a pet resort in California. She quickly realized that being a receptionist was not the right fit for her. As fate would have it, she was given the opportunity to help with bathing dog clients which led to her passion for grooming.

With her previous fascination in the artistic application of makeup, Drummonds came to discover how similar makeup and grooming can be with the patterns and techniques they must follow. Having a personal affection for animals as well made the career of a pet groomer even more intriguing. Drummonds shared, "I love the way grooming can transform a dog in the midst of 2-3 hours. The reaction of the pet parent is one of the best things about my job. Hearing the words, 'You look like a completely different dog!' never gets old. Grooming is a trade that has no end when it comes to education. Between colleges, trade shows, certification classes, seminars, or straight up grooming books, a new idea or technique can capture a moment of awe for a groomer- no matter how long they've been in the industry."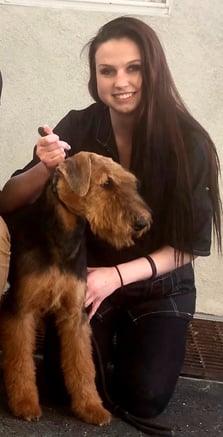 After roughly four years of self-taught grooming, Drummonds wanted to get a certification and learn more from a structured curriculum about the profession of grooming. With much encouragement and the support of her husband, Zachary, she decided to enroll with ABC's Grooming Program.
For Drummonds, one take away is that a client may come in with certain requests for the grooming, but the safety of the dog is the first priority. Every dog has a different type of coat that serves a purpose and not every dog can be groomed in the same manner. It is the groomer's duty to educate the pet parents of that importance. "I always thought that no matter what the client wanted, that is what you had to do. After going through the program and seeing all of the different procedures there are, you should not do a grooming that you don't feel comfortable doing for your safety and the safety of the dogs." Alexis had an unfortunate experience with this at a prior pet salon, where they continued with a shave that was not recommended but insisted on by the client which resulted in harming the animal. "That is when I realized that it was more important to look out for the safety of the animals more than the accommodation of the owner, and the grooming program helped solidify that mentality."

With her recent ABC education, grooming training, and tools from Groomer's Choice, the possibilities to use her certification and training are limitless. Graduating in 2022, Drummonds moved to Florida where she has made a connection with a Certified Master Groomer, Suzanne Grande. Being a certified pet groomer and having the strong educational foundation, has helped Alexis with getting a job with Suzanne, who has helped her obtain her Certified Professional Groomer (CPG) and continues to assist with her Advanced Professional Groomer and International Certified Master Groomer Certifications through International Professionals Groomers, Inc. With her new job, she will be conducting demonstration videos on their YouTube channel as part of her training towards the master certification. "My chances of getting a job with the Certified Master Groomer would not have happened without having the certification from ABC. You can have all the experience in the world, but the certification will get you so much further," says Alexis.
Alexis is enthusiastic about informing her pet parents of what happens to their dog's coats to ensure they are educated in keeping their pets safe. "The day that I groom for the money is the day that I need to be done with grooming because it is about the safety and education, not the money." Alexis suggests for those that are interested in the career long term, "No matter if you've been grooming for 40 years or just joining the industry, start your education. Continue your education. Because for me, I'm just getting started."
ABC congratulates Alexis Drummonds on her recent achievements and hopes this inspires others to keep searching for the dream they love.
---
Are you a dog groomer or pet professional? Want to be featured in a future Groomer's Choice blog post or catalog? Submit your grooming story! 💜