Groomer Spotlight: Lashonda Geffrard and The Paw Shop
Groomers around the world inspire us. Their passion for pets and business consistently set the bar for the industry, which is why we'll be featuring stories from groomers like you in our monthly Barkmails. This month, we caught up with Lashonda Geffrard, groomer and owner of The Paw Shop in Ocoee, Florida.
From taking fellow black groomers under her wing to providing free pet care resources for those in need, Geffrard has positively impacted the Ocoee community since opening The Paw Shop's doors in 2015.
GC: What interested you about becoming a dog groomer?
LG: I LOVE animals and discovered grooming while trying to pursue a career as a vet technician. Grooming captivated me. The creativity and freedom of this career has opened an entire world of opportunities.
GC: When did your grooming journey start? Did you go to grooming school?
LG: I graduated from the Florida Institute of Animal Arts in 2007. It was the first step to the best career move I made.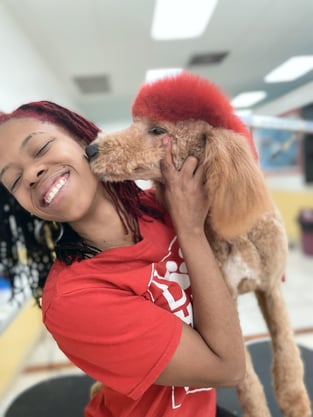 GC: What is your favorite thing about being a groomer?

LG: My most favorite thing about being a groomer is seeing pets being transformed and watching their owners' reactions. I love seeing pets strut their stuff, and seeing their parents' reaction is priceless.
GC: Do you have a favorite breed to groom? If so, why are they your favorite?
LG: I love grooming Pomeranians. They are so fluffy and cute. From teddy bear clips to full body scissors, there's nothing I don't enjoy grooming them.
GC: Tell us about The Paw Shop.

LG: We are central Florida's only BLACK-OWNED grooming salon. Our salon opened the summer of 2015. Since opening, we've been able to positively impact our community by training and educating new black groomers. We've also created a non-profit organization in 2017 to help seniors and families in our local community with FREE pet care resources and aid.
GC: How many bathers and groomers work at The Paw Shop.
LG: Currently, we have three groomers, one receptionist, two bathers and two apprentices.
GC: On average, how many pets do you bathe and/or groom in a day?
LG: On average, we groom 20-25 pets per day.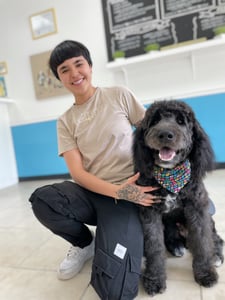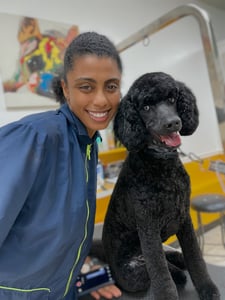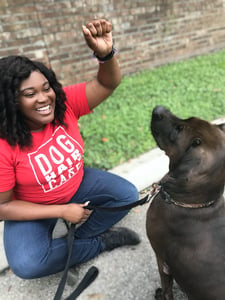 GC: What are the sacrifices and rewards that come with owning a grooming business?
LG: The biggest reward is being such an asset to our local community. With our work and charitable contributions through our non-profit, Paws of Hope, it feels great being able to give the way we do.
The biggest sacrifice has been time. Time away from family is always hard.
GC: Why do you choose to shop with Groomer's Choice?
LG: Super-fast delivery, quality products and great prices. Even prior to opening my business, Groomer's Choice has always been my No. 1 choice for my tools and supplies.
GC: What are your go-to products and/or tools?
LG: Lambert Kay shampoos (Fresh 'N Clean). My second is their cologne spray.
GC: What's a grooming myth you wish was debunked?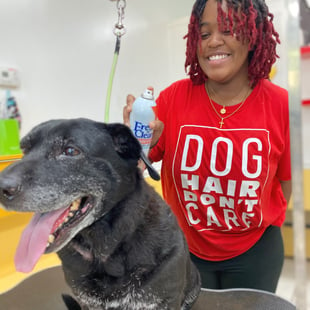 LG: That grooming means brushing your dog. Combing is so important, and pet owners need to focus more on that aspect.
GC: What is the best grooming advice you've received?
LG: Practice makes perfect!
GC: What would you say to someone interested in becoming a groomer?
LG: Find a mentor. Find someone who is where you want to be in your career and stay under their wing.
Keep up with The Paw Shop on Instagram, Facebook and TikTok.
Want to read about more groomers?

Sign up for our Monthly Barkmail!🐶

Are you a groomer? Want to be featured?

Submit your grooming story! 💜