Groomer Spotlight: Miranda Alonzo
Groomers around the world inspire us. Their passion for pets and business consistently set the bar for the industry, which is why we'll be featuring stories from groomers like you in our monthly Barkmails. This month, we caught up with Miranda Alonzo, groomer and owner of Grooms By Miranda Elite Grooming in Corpus Christi, Texas.
GC: Tell us your grooming story.
MA: I started working as a bather at PetSmart when I was 17. I loved watching the groomers do amazing work and said, "One day that's going to be me!" I went to grooming school shortly after and realized this was it! I found my calling and never looked back! It was hard and took a lot of work, but I'm the happiest I have ever been, doing what I set out to do 10 years earlier and loving every minute.
GC: Tell us about Grooms by Miranda Elite Grooming.
MA: In 2019, the shop I was working at closed its doors without notice. I saw how many of my clients needed me after that and knew I couldn't let them down. Four days later, Grooms by Miranda was born in my garage. After six months, I upgraded to a 16-by-20 grooming space in my backyard and worked out of that for the next two years. On October 27, 2021, I opened my own storefront.
It's been an amazing journey. I always knew I wanted to groom, but I never thought I would be a business owner. We have been in our new shop for seven months, and business is better than I could have ever imagined. I have the support of my partner and right-hand man, Michael, who has been my assistant since day one.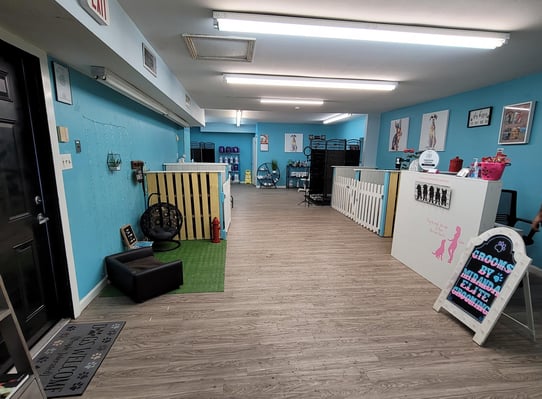 GC: What interested you in becoming a groomer?

MA: When I was six, I would play vet with all my pets and tell everyone I wanted to be a pet doctor. I always knew I wanted to work with animals, I guess I just didn't know which path I would take.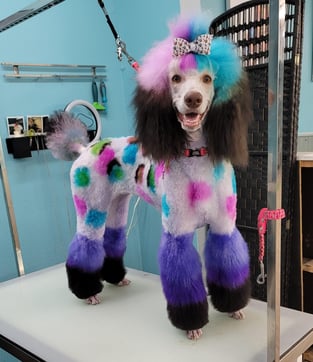 GC: Do you have a favorite breed to groom? If so, why are they your favorite?
MA: Poodles. I have a Standard Poodle and love to do fun and creative grooming with her! Right now, she's a rainbow cheetah. Something about a fluffy dog gets my grooming heart going.
GC: What would you say to someone interested in becoming a groomer?

MA: Be kind. Be patient. It's hard work, but it's worth it if you love it.
GC: What is your top grooming tip?
MA: Always continue education and keep an open mind.
Keep up with Miranda on Instagram and Facebook.
Want to read about more groomers?

Sign up for our Monthly Barkmail! 🐶

Are you a groomer? Want to be featured?

Submit your grooming story! 💜