Groomer Spotlight: The Story of Elly Linam
Groomers around the world inspire us. Their passion for pets and business consistently set the bar for the industry, which is why we'll be featuring stories from groomers like you in our monthly Barkmails. This month, we caught up with Elly Linam, groomer and owner of Elly Scissorhands Dog Grooming LLC in Murfreesboro, Tennessee.
GC: Tell us your grooming story.
EL: What started as a single post on Facebook has exploded into a thriving business and an absolute passion! In late October 2020, I decided to start grooming our Shih Tzu and posted a picture on Facebook. I began getting comments from friends and family asking what I would charge to groom their pets. I started grooming just one dog a week like that, and by the end of the month, I knew I had found something I loved.

I enrolled in Paragon Pet School within a month of that post. I completed Certification Levels 1 & 2 (Groom Tech and Pet Groomer) and officially opened my LLC in March 2021. Since then, my love for all things grooming has only grown, and I operate Elly Scissorhands as the solo owner and groomer. My husband and I just finished renovating, and I now have a full, in-home salon.

I've experienced Atlanta Pet Fair and Groom Expo, gotten certified in Pet CPR/First Aid and completed numerous seminars and webinars, including becoming an ongoing subscriber to Super Styling Sessions and learning all I can about Asian Fusion Grooming, another new passion of mine.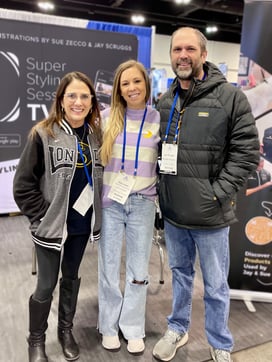 Elly with Sue Zecco and Jay Scruggs at Atlanta Pet Fair 2022
GC: What interested you about becoming a dog groomer?
EL: I love the fact that with grooming, I can:

a) pair science with art (Yes, I'm a nerd!);

b) work with my hands and see immediate, tangible results;

c) stay on my feet and be active (I could never do a desk job.);

d) never stop learning and growing; and

e) work with doggos, obviously.
GC: Tell us about Elly Scissorhands Dog Grooming LLC.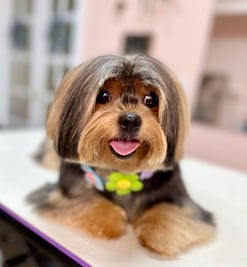 EL: Elly Scissorhands Dog Grooming focuses on private, one-on-one quality care and specializes in stylized haircuts for small dogs.
GC: On average, how many pets do you bathe and/or groom in a day?
EL: I groom three to four dogs a day. I am solo, so I do the full grooming session with each dog.
GC: What is it like to own your own business?
EL: I love owning my own business because of the autonomy I have. I never considered dog grooming as a profession because the faster-paced, loud salon environment isn't conducive to my personality. It wasn't until I started grooming just one friend's dog a week – and my business began to grow organically from there – that I realized it can be done differently, and it can be operated in a way that honors my quieter nature. I appreciate both the freedom and responsibility of owning my own business and wouldn't do it any other way.

GC: Do you have a favorite breed to groom? If so, why are they your favorite?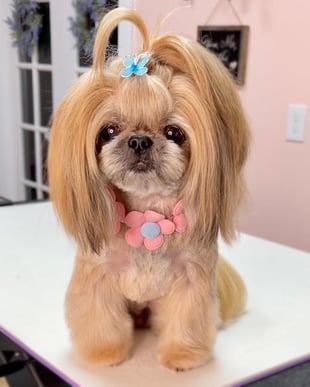 EL: Shih Tzus have a piece of my heart, but I'd have to go cliché and say Poodles!
GC: What is your favorite part about your job?

EL: I love that I can get to know dogs on their level, one-on-one, while also making pet parents happy! That and the fact that you can never stop learning in this field.
GC: What are your go-to products and/or tools?
EL: My go-to tools definitely include my Wahl KM Cordless. I love my Bark2Basics Anti-Stat Spray, Blueberry Facial and Best Shot Ultramax Shampoo and Conditioner.
GC: What is the best piece of grooming advice you've received?
EL: Let the tools do the work.
GC: What is your top grooming tip?
EL: Always be willing to learn and support each other! We're really all in this together. Also, the key to a great finish is in the prep work.
GC: What's a grooming myth you wish was debunked?
EL: I would love for the myth that 'only long-haired or thick-coated breeds need grooming' to finally be laid to rest. All dogs – regardless of coat type – benefit greatly from regular, routine grooming, with improved skin, coat, nails, teeth and more. Not only that, but routine grooming can also keep an eye on pets' overall health, as groomers often notice changes in dogs that owners may not notice, and that can save a life.
GC: What would you say to someone interested in becoming a groomer?
EL: Try it yourself in a quiet space first, without distractions or tons of stimulation, and see if you enjoy the process. If you enjoy the process – even if the results aren't your fave – you've got something.
GC: Why do you choose to shop with Groomer's Choice?
EL: I love Groomer's Choice because they look out for groomers. As a first-time customer, when I bought my Wahl KM Cordless, Groomer's Choice wanted to verify that I was a groomer and they weren't selling to a price gouger. I really appreciated that, especially because at the time it was so hard to find clippers! I continue to order almost exclusively through them. Their customer service is great, and my orders are always correct, high-quality and shipped super fast.
GC: Anything else you want to add?
EL: The people and companies I've met make me extremely proud to be part of such an amazing and growing industry, and I can't wait to see what's in store for Elly Scissorhands and the grooming industry.
Keep up with Elly on Instagram and Facebook.
Want to read about more groomers?

Sign up for our Monthly Barkmail!🐶

Are you a groomer? Want to be featured?

Submit your grooming story! 💜